[15.05.17]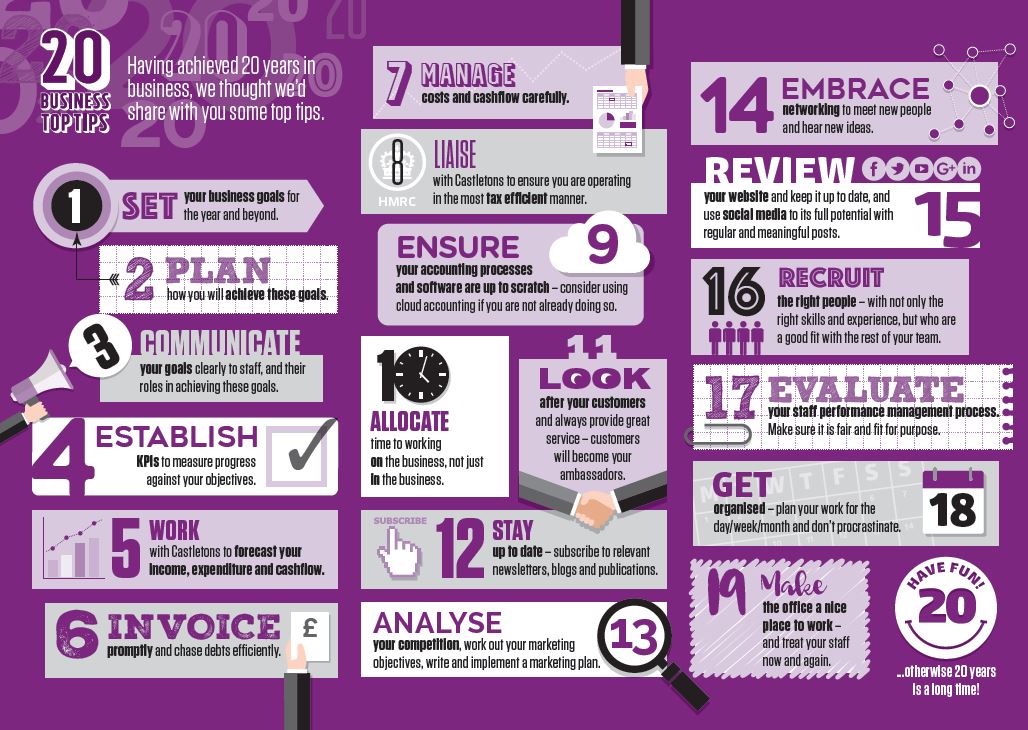 Having achieved 20 years in business, we thought we'd share with you some top tips.
Set your business goals for the year and beyond.
Plan how you will achieve these goals.
Communicate your goals clearly to staff, and their roles in achieving these goals.
Establish KPIs to measure progress against your objectives.
Work with Castletons to forecast your income, expenditure and cashflow.
Invoice promptly and chase debts efficiently.
Manage costs and cashflow carefully.
Liaise with Castletons to ensure you are operating in the most tax efficient manner.
Ensure your accounting processes are up to scratch – consider using cloud accounting if you are not already doing so.
Allocate time to working on the business, not just in the business.
Look after your customers and always provide great service – customers will become your ambassadors.
Stay up to date – subscribe to relevant newsletters, blogs and publications.
Analyse your competition, work out your marketing objectives, write and implement a marketing plan.
Embrace networking to meet new people and hear new ideas.
Review your website and keep it up to date, and use social media to its full potential with regular and meaningful posts.
Recruit the right people – with not only the right skills and experience, but who are a good fit with the rest of your team.
Evaluate your staff performance management process. Make sure it is fair and fit for purpose.
Get organised – plan your work for the day / week / month and don't procrastinate.
Make the office a nice place to work – and treat your staff now and again.
Have fun – otherwise 20 years is a long time!
These are just a few pointers to help steer business owners in the right direction. Owning your own business can be daunting and challenging but we believe the rewards more than make up for that – and as tip number 20 says, make sure you have fun running your business.