[07.07.22]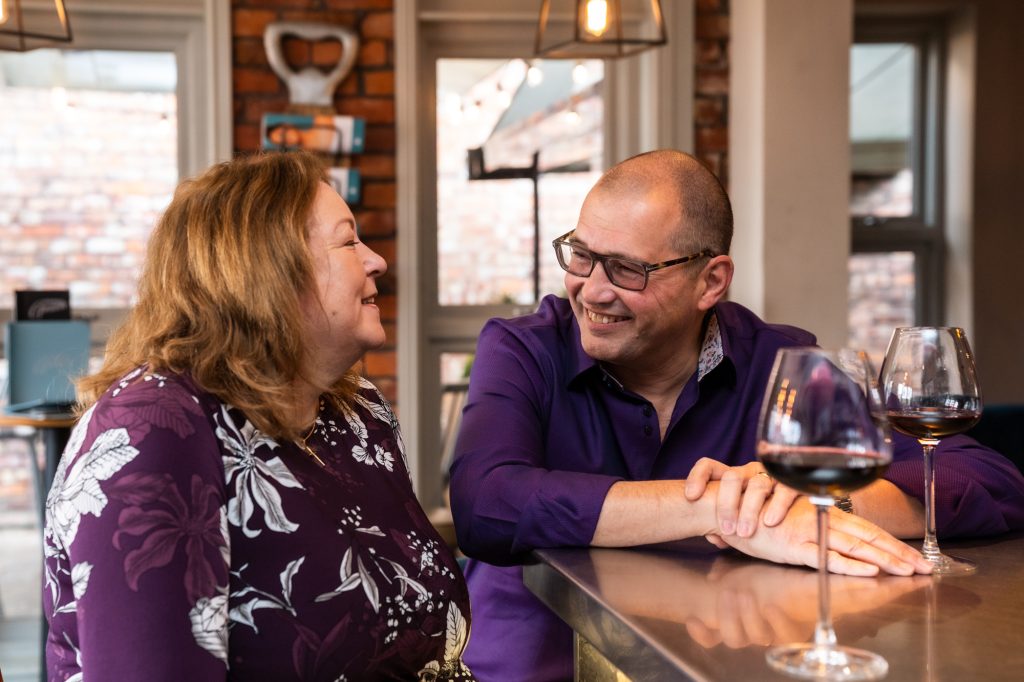 As part of our 25th anniversary celebration, Jackie and Andrew were asked to reflect on the last 25 years.
Jackie started by saying: "Sometimes it feels like 25 years ago, and sometimes it feels like yesterday that I sat in a serviced office in Macclesfield with one desk, a computer, a phone and an engagement letter from my first client!
"The key difference between now and 25 years ago is of course the technology.  Although I had a computer, on which I ran Sage bookkeeping software and payroll, we didn't have the internet or emails.  So everything took so much longer.  For example, for VAT returns, I would handwrite a client's details onto the form, post it to the client for them to check and sign and they would then post it back again to me.
"A  year or so in, Janet joined Castletons, and I remember her going over to the Tax Office in Macclesfield on 31st January, with all of our tax returns, to have them stamped to demonstrate that HMRC had received them by the deadline!
"Even how we received information was cumbersome and difficult.  Every year HMRC would issue hard-copy guidance, which would sit alongside the Self-Assessment forms, advising what was and wasn't allowable and the details of the different allowances and taxes.
"Printing was also difficult and time consuming.  Having created a client's accounts, we would send them to print, and the office would be filled with the 'screech-ka-thunk-screech-ka-thunk' sound, until the paper got jammed; and we had to start all over again!"
Andrew continued: "Even going out to see a prospective client was trickier.  Now, before we go to see a prospective new client, we research them on Companies House, CreditSafe as well as their own website and social media accounts.  Clearly before the internet that was not possible, so we would arrive knowing nothing about the prospective client.  And firmly holding our A2Z book, we would hope to find their premises.
"With the emergence of the internet and emails, everything changed.  Our processes became more streamlined and our productivity increased.
"And now, we work on real time information.  A client can call with a query, and we can immediately access their cloud accounting package and look at whatever the client is looking at.  Gone are the days where we would say – send us a back-up of your bookkeeping software, and in the meantime don't do anything else in your bookkeeping software until we get back to you in approximately a week's time!
"Of course, now, as a society, we become frustrated when things aren't available electronically.  We expect things to be done as close to immediately as possible; and our expectations of how quickly something will be done, are much higher.
"Even HMRC is catching up with the digital era, with their push towards Making Tax Digital.  This approach will mean that HMRC will increasingly have more accurate and up to date figures on every business and individual.
Reflecting on how Castletons Accountants has achieved its 25 year anniversary, Jackie comments: "My first day as Castletons was 7th July 1997.  Siobhan was nearly two years old, and my motivation for setting up on my own, was to find a balance between working and family life.  Very quickly, it was clear that the business and our clients would benefit from Andrew's involvement.  The decision for Andrew to join made us a family business.  And this has been the key to our success.  We understand each others' drivers and pressures and we are able to support one another.  We have shared experiences; and with our different skills and approaches, we are able to resolve any issues quickly and painlessly.
"In addition Siobhan's involvement with the business has brought another dimension, making us stronger as a family and as a business.
Andrew concludes: " Our approach has always been to help our clients wherever we can by building strong relationships with them.  This has allowed us to mature with our clients.
"Looking to the future, our strategy will continue to be organic growth: simply, doing more of what we have always done.  This has worked for us and our clients over the last 25 years – and we're sure it will continue to work for the next 25 years!"