[24.06.15]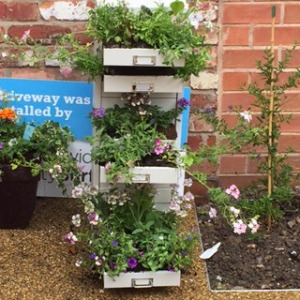 If you visit our office over the next few weeks, don't be concerned by our outdoor décor!  We haven't gone completely doolally; It's just that time of year and once again we have entered the Wilmslow Scarecrow Festival and joined in with Wilmslow in Bloom.
The theme of this year's Wilmslow in Bloom is "upcycling".  The organisers have asked Wilmslow businesses to recycle an item, and plant it up with some beautiful flowers, to make Wilmslow look colourful.  This is all part of Wilmslow's entry into the Royal Horticultural Society In Bloom competition.  Last year, Wilmslow received a Gold medal for the Best Large Town Award, as well as Biodiversity Award and the Most Improved Entry in the Northwest.
As we move more and more to electronic storage of files, we have a number of under-used filing cabinets, so we have put one to good use as part of Wilmslow in Bloom.  We have a range of flowers cascading from the opened drawers.
We have carried the "upcycling" theme over to our scarecrow as part of the Wilmslow Scarecrow Festival, where we have used parts from an old bicycle to create our scarecrow Belinda, the Scarecyle.  We must have impressed the judges, as Belinda has been invited to the Wilmslow Show on Sunday 5th July.