[28.09.15]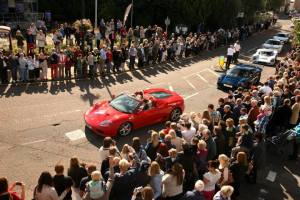 Saturday 12th September saw Wilmslow roaring to life as the Wilmslow Motor Show hit the town. The Motor Show, which was organised by the Wilmslow Business Group Event's Team and Steve Kennedy of Mailboxes etc, saw the town centre transformed into a dream outdoor showroom with over 55 static displays of vehicles from Jaguar, Ferrari, Porsche, McLaren, Rolls-Royce and Bentley with visitors able to get up close to these incredible cars.
One of the many highlights of the day was the Supercar Parade, which featured 30 amazing vehicles. Sporting Bears were also out again this year, supporting The Children's Adventure Farm Trust with their Dream Rides. They raised a staggering £2,000.
Andrew, Jackie and Siobhan were part of the Motor Show Event Crew.  They were involved in all manner of things on the day, including guiding some of the cars into position, helping with the traffic management for the Supercar Parade, providing information to visitors, and tidying up the town after the event.
The weather didn't dampen the mood as thousands of members of the public turned up to admire various automobiles.